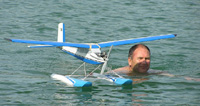 There is a small but soulful community in Austria, the IG RC Wasserflug Wien-Niederösterreich. The members are all fans of radio-controlled/electronic seaplanes.

These people found each other on the Internet; their "operating area" is on the Wien-St.Pölten axis.
The group has approximately a dozen members, mainly erecting models available in packages. These models are duplicates of the well-known seaplanes or floatplanes. In the first photos you can see a Catalina bought from China.
In January, one of the members created an UC-1 Twin Bee-model by himself. This seaplane was recently introduced in a separate article.
The members are assembling usually once a month on several lakes, in the period of March to October, enjoying the beauty of flying.
Previous articles:
Video: Catalina from England in seaplane festival of Biscarrosse
Video: Dutsh Catalina on Lake Wolfgang
Suggested link:
IG RC Wasserflug Wien/Niederösterreich
An RC-model trip in Austria