New Russian Chirok amphibious drone's small version showed first time last summer. The black new seaplane unique feature was the Chirok's air cushion is fully-retractable during flight and water and snow landing not open it. This week at the MAKS 2015 airshow near Moscow you can see its white larger version, which can already lead pilots.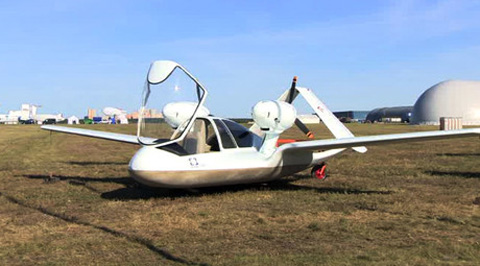 The Chirok (the Russian word for teal) is a unique aircraft that can land and take off from practically any flat surface. It is a development platform of the Russian high-tech state Rostec Corporation. The bigger amphibious aircraft may be unmanned and manned.
The seaplane can be small, such as last year presented one meter barely larger wingspan black version. It may be bigger than shown in the picture 10 meter wingspan white version. We have a read about planning its giant version, which will be a take-off weight of 25 tons. Finally, the seaplane can be civil or military purposes.
The Chirok's prototype offers visitors on the grass at MAKS this week. The amphibious seaplane is made of carbon fiber composite material, with a wingspan of 10 meters and maximum takeoff weight of 750 kilograms. The Chirok can lift over 300 kilograms of payload. Its maximum flight range is 2,500 km.
The Chirok's prototype can carry 2-3 people and has a unique attribute to all of people may be passengers. So, the Chirok is the first unmanned passenger carry seaplane in the world.
In generally this new seaplane doesn't use airport. Chirok has a boatlike body fuselage, therefore easy to land on water and snow. The retractable during flight air cushion design allows the Chirok to take off and land in virtually any conditions – from uneven surfaces to sand, moorland territories or area covered with small stones. It can be operated as low-flying hovercraft or as a high-flying aircraft up to 6000 meters.
The developer didn't give any information from the Chirok's speed and the other features. Except that the Chirok provides another invention in addition to the retractable during flight air cushion. Its engine with controllable-pitch propellers is almost noiseless.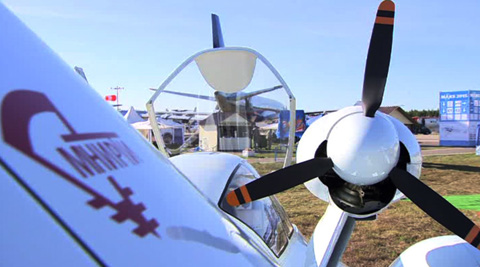 Chirok's civil and military use could be versatile. The civilian drone version of Chirok could be used first of all for conducting naval patrols, monitoring disaster areas and forest fires, delivering equipment to remote oil rigs and air ambulance service.
The military version is stealth and can be used for transportation, surveillance and reconnaissance, and even be transformed into an assault aircraft, with high-precision weapons, such as small-size guided missiles and guided bombs, sheathed inside its hull.
The developer is going to plan new amphibious drone seaplane's maiden flight 2016 January. Next autumn the Chirok will be demonstration flight before the professional and the interested public on the especially seaplane festival Gidroaviasalon in Geledzhik.
Bigger Chirok seaplane at Aviasalon