Government of the State of Kerala in India is gearing up to launch seaplane operations in the State. On this week the Cabinet decided to go ahead with the project which had gone into hibernation since the inaugural flight in June 2013.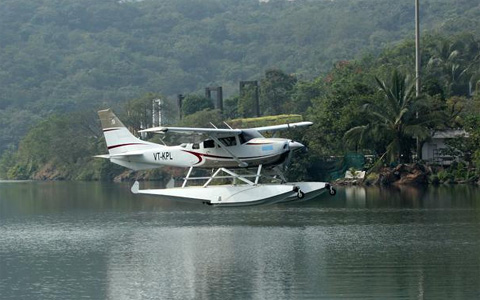 Two years ago in 2013 on flight inauguration the seaplane took off from the waterdrome and landed back. Though it was proposed to take six passengers to Punnamada in the maiden flight, it was cancelled as weather contiuned to be hostile with the monsoon activity being vigorous.
More pictures
The six-seater Cessna 206 floatplane was operated by Belgian captain Michael Fabry, watched by hundreds of onlookers who gathered for the inaugural despite the hostile weather. The service in due course envisages connecting the entire stretch of Kerala with Thiruvananthapuram, Kochi and Kozhikode airports, being base stations.
Allaying concerns of fishermen, who lined up a flotilla of fishing boats to register their protest on the occasion, Chief Minister Chandy said the service would not in any way affect their livelihood. If they experienced any difficulty due to the seaplane's operation the authorities would examine it and take remedial steps, he said.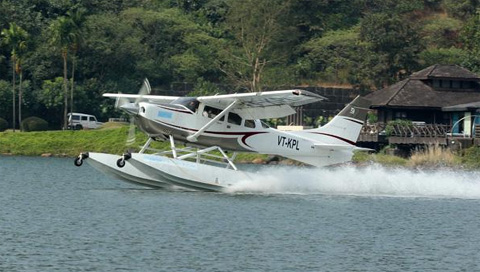 Returning for days: Chief Minister Oommen Chandy said the government had initiated discussions with several companies that had come forward to operate the service. He said efforts were on to clear the apprehensions of the fishermen opposing the project and come to a consensus on launching the ambitious project. He added that the proposed service would smaller water where fishermen had raised objections citing disruption of inland fishing activities.
An initiative of the Tourism Department in association with private aviation companies, the seaplane service was designed to link major tourist locations in the State and provides the last-mile linkage to backwater destinations from airports in Kerala. The proposal involved the construction of waterdromes with floating jetties in the backwaters.
We recommend the previous article about seaplanes in Sri Lanka.
Indian government supports the seaplanes