At long last in Europe one seaplane airline is scheduled operates and developing well. Moreover the Croatian European Coastal Airlines already flies to Italy. Special and wonderful shots of its DHC-6 Twin Otter seaplane flight.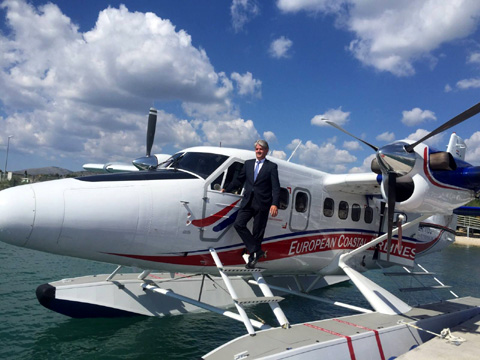 Captain Klaus Dieter Martin founder and head of the airline
The one and half years airline has flying three 19 persons Twin Otter seaplane, but it had purchased additional ones. Among the 15 landing grounds are new Dubrovnik and Ancona in Italy, but they will soon fly to Pescara in Italy at the airport too. We hope that the Italian cities will soon contribute to the seaplanes landing at the city sea ports.
In the video you can see one woman pilot, who flying as first officer. Danish pilot Maria Amalie Wiuff, who has flown Maldiv Island earlier, delivered the former Croatian Prime Minister from Split to Jelsa last year. But one American female pilot is flying as captain this seaplane scheduled airline.
We hope that Hungary will be the next foreign destination after Italy.
Guestvideo Europe's only scheduled seaplane service