Two weeks ago on Scalaria Air Challenge the Dornier Do-24ATT old timer flying boat has been accident on landing. Video, images and reviews, descriptions of the heavy landing. Good news, the Do-24ATT already is parking in front of Red Bull Flying Bulls hangar, not far from the St. Wolfgang Lake.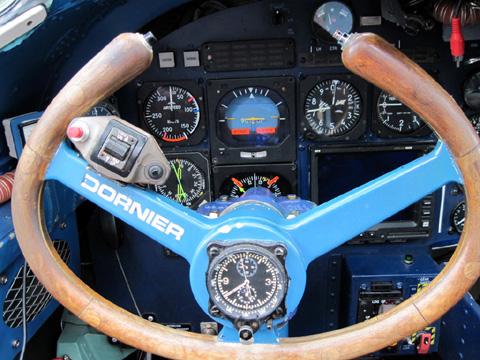 The aviation accident investigation is done over a long period. Fortunately, someone made a video about this flying boat landing.
Three days after the heavy landing Do-24.com Facebook site issued a communication.
"Dear friends! Unfortunately we had a heavy contact by an object in the water at a planned touch and go during the Scalaria Air Challenge 2015 air show last weekend. Currently we are investigating the damage. Luckily nobody was hurt. Because there was a heavy storm a couple of hours before, we think it might have been a tree trunk. Another one has hit a motorboat only minutes before."
According to a description of Aviaton Safety Network the accident occurred following:
"During the airshow "Air Challenge 2015" the Do 24 ATT was going to perform a "touch and go" display on the Lake. The plane slighly rolled to the left, then made a quick 270 degree turn leftwise ("Ringelpietz") and came to a sudden stop within apx two lenghts of the planes lenghts. The crew stated they hit a floatsome and pictures show a hole in the fuselage. The Amphibian plane was towed by boats to a nearby slip and is now on land for further repair and inspection."
6 little photos from Austrian Wings
On the forum of Warthunder site Pony51 wrote:
"A highly modified WW2 era Dornier Do-24 ATT hit floating debris on landing resulting in spectacular incident, fortunately no one hurt and aircraft mostly undamaged. Yes, the Do-24 did a full 270 degree "ground loop" after impacting the debris, but still stayed upright. Damage seems minimal and best of all no injuries! The Sponson design of stabilizers are regarded as superior to tip floats as latter is easier to rip off in extreme landings. Note the left wing tip was completely submerged in water, a tip float would likely be ripped off."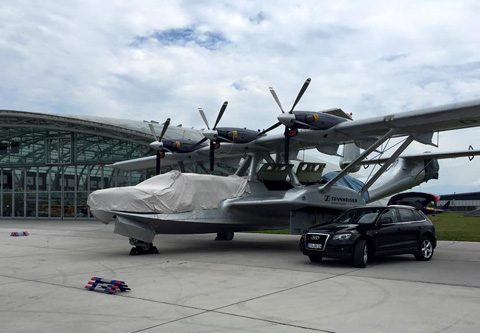 By the end the pictures and also good news are on the Do-24ATT official Facebook page: "Just went to our friends from The Flying Bulls to give Latina some cuddles…we hope everything turns out fine and the lady would be back airborne, soon!"
Do-24ATT heavy contact by an object in the water