Week walked around the Internet a photo series from the beginning of the fifties. A former fighter Catalina has become a luxury yacht in the sky. This triggered my memories of old timer seaplane, I went twice to its board.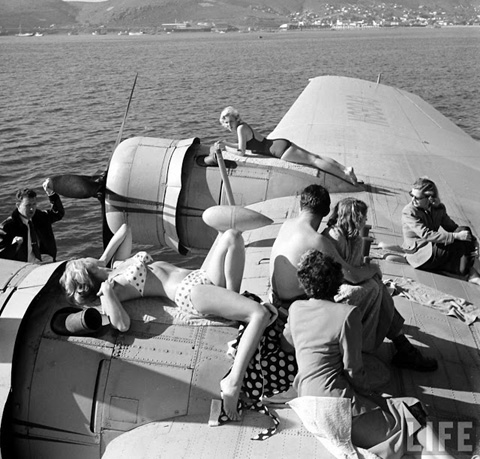 Consolidated PBY Catalina was one of the most versatile airplanes used in the Second World War. This seaplane before it was hosting blondes in polka dot bikinis, it served as a patrol bomber and submarine killer.
After the second world war, an entrepreneur saw a new future for the roomy Catalinas as extreme luxury flying yachts. They were to be the epitome of glamorous travel that he called Landseaire. More pictures>>>>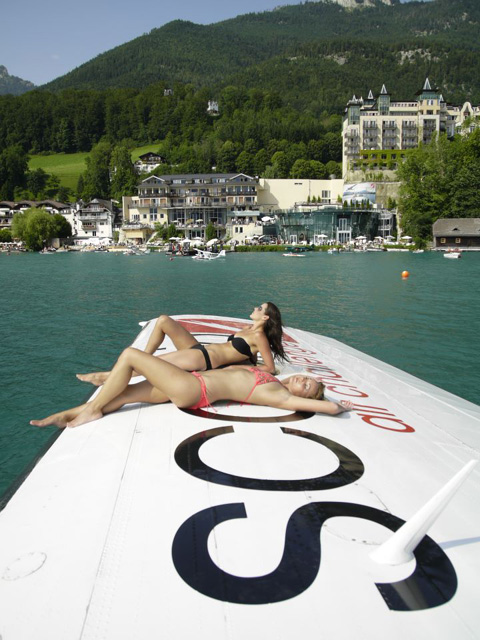 Customize pictures, the other is the backside – Catalina seaplane and girls in bikinis. The pictures were taken in Lake Wolfgang Austria, where I saw this renovated British Catalina seaplane several times. However, I only got in the seaplane in Berlin and I repeatedly banged my head in the fuselage tight oval openings on divers occasion.
The British Catalina parked in the hot sun at the airport, but we have made a video in its flight a few months earlier Biscarrosse, France.>>>>>
One of the other European flying Catalina is the Dutch. I saw it again on the Lake Wolfgang 2009. This Catalina seaplane flew from Europe to Australia. The captain in the orange dress told us about this trip. The Dutch Catalina could not be operated for one year and then took off again>>>>>.
Catalina flying boat then and now