Abu Dhabi As the nine-seater seaplane carrying us raced its engine and soared over Abu Dhabi at 2,000 metres, it felt like the burgeoning city was revealing some its most well-kept secrets.
Like a masterpiece coming to life on an artist's canvas, the pristine landscapes nestling in the inlands of Abu Dhabi came alive as panoramic visual treats – palm-fringed coastlines, virgin beaches, secluded islands, secret getaways, and forts that looked like vestiges from the past.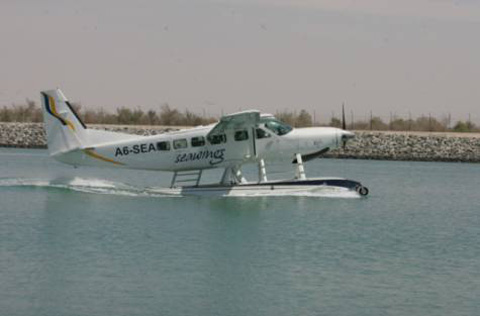 Minutes earlier, settling into his seat of the amphibian Cessna Caravan 9 on Yas Marina waters, I heard our pilot Andrew Kennedy communicating with traffic control for clearance. "All my checks are done. We are ready to go. After the take-off, you are free to move around," Kennedy told the passengers that included an Arab family of four, my photographer and myself.
Vroommm! The plane shook and shuddered and soon lifted off the water, heading for the Abu Dhabi sky. With our nose glued to the window, soaking in the breathtaking views, mobility was the least of our concern. The first landmark to catch my eye was Ferrari World, which soon resembled a minuscule red spider as the plane soared and did a 180-degree turn to the north-east.
By Gulfnews.com
Abu Dhabi tour on a seaplane